I am so excited! I finally made a pie as a dessert. I have dessert every day and well I usually have dates and almonds, chia pudding or dark chocolate but the warm weather has got me inspired. I created this power pumpkin seed pie because cashews are just taking over in the raw dessert world and Pumpkin seeds are just as if not more amazing than cashews!
Pumpkin Seed Power!
Pumpkin seeds are usually not really in the forefront of most people's minds when it comes to desserts or even raw desserts and I'm not sure why not. Which nut died and made cashews king of the raw desserts? Pumpkin seeds while not a nut and rather a seed are great for those of us who have nut allergies. Pumpkin seeds also contain a large amount of zinc which is needed to boost our immunity, create gorgeous skin and to make sure sperm are healthy. If you are in the baby making club, get you hand on these amazing gems and eat your way to fertility!
My husband is not the greatest fan of pumpkin seeds and always opting for Brazil nuts or almonds but if I sneak these babies into a nut cheese or dessert he doesn't know what hit him! Well thank god, how else would I get such a potent dose of zinc into his system?
Pumpkin seeds also contain sulfur, B vitamins and vitamin A along with zinc which makes them a potent hair builder. Pumpkin seeds also contain essential fatty acids that our body cannot produce. These fatty acids help to nourish the scalp and reduce any dryness and flakiness.
Why Cashews are NOT the best nut to be consuming all the time!
Cashews taste amazing, don't get me wrong but they can also contain aflatoxins, a mold that is considered carcinogenic. Peanuts contain this mold too which is part of the reason why peanuts are a top allergen. Consume cashews in moderation to avoid any negative effects of the aflatoxins.
Cashews are also rarely raw because the tough outer shell needs to be steamed off. If you know about raw food you know that heating above 115F renders the enzymes in a live food dead and the food is no longer raw.
Power Pumpkin Seed Pie
Ingredients  Please buy organic if possible
Filling
1.5 cups pumpkin seeds soaked
3/4 cup filtered water
½ – ¾ cup dates
1 cup chopped zucchini squash
1 tsp vanilla or almond extract
Crust
1 cup raw almonds
½ cup goji berries
Pinch sea salt
1 tbsp. of water
¼ cup of coconut oil (optional, for added creaminess)
Directions
Crust
Add raw almonds to food processor and process into small pieces (about the size of a sand grain).
Add goji berries and Himalayan pink salt to food processor and process until well mixed.
Add in water and process until the mixture forms a dough
Take this dough and form the crust in a 20cm diameter spring form pan (or any other container with plastic wrap on the inside to prevent sticking).
Filling
Add all filling ingredients to a high speed blender and blend until smooth.
Add in filling to crust in pie pan.
Smooth out the filling until level and place in freezer for 4-6 hours to harden.
Remove and enjoy!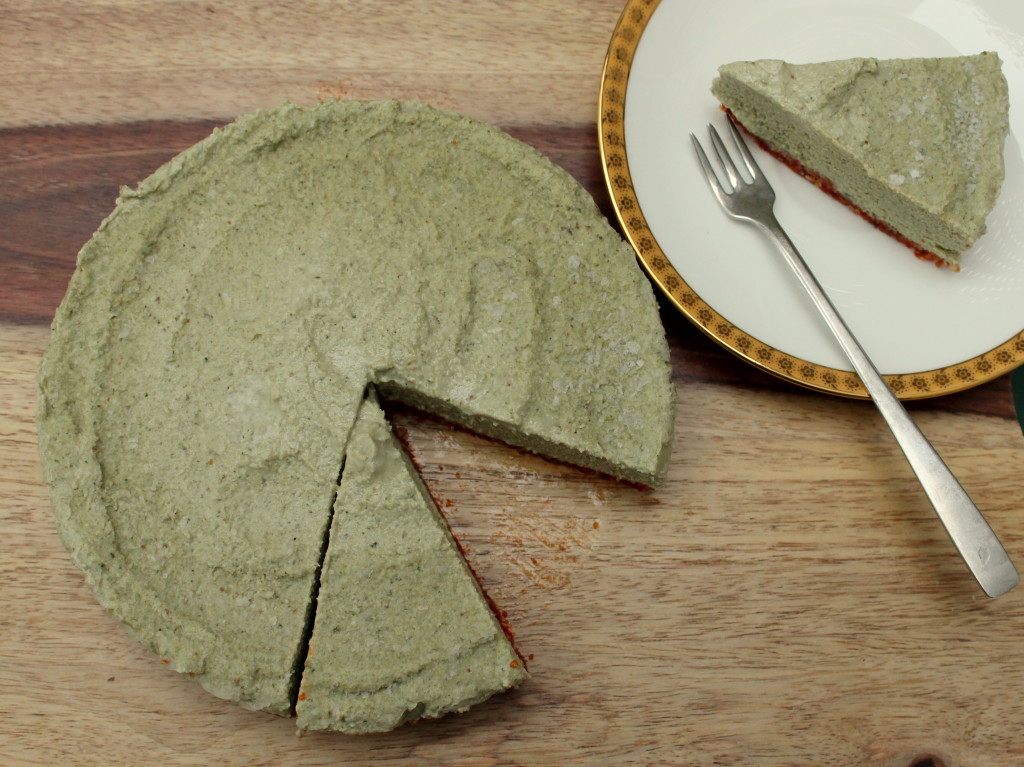 I hope you enjoy this amazingly delicious, easy and power packed dessert that will leave you feeling satisfied. Please let me know in the comments below if you try this easy-as-pie pie 🙂 I would LOVE to hear if you loved it or or were inspired to create something similar!
Please SHARE this recipe (via Facebook or twitter, see buttons below) with others who want a healthier creamy pie that tastes amazing and is great for your health and well-being!
~Michelle
Holistic Nutritionist.