The Emotional Eating Evolution Program
A transformational program for women ready to resolve their emotional eating from the root to finally feel confident around food and in their body.
It's time to truly nourish yourself, find acceptance and become emotionally savvy.
You were born knowing what you needed to feel good in terms of nourishment, acceptance and expressing your desire for your needs.
Slowly these needs were not honoured. You learned to soothe with food, punish your body with criticism in an effort to be ok. You started to restrict and deprive in order to control your body and hunger. 
You desire to feel good in your body, around food and in your life. You're ready for a solution because the surface level diets and exercise (maybe even pills and surgery) are not cutting it. You have a feeling there is something deeper.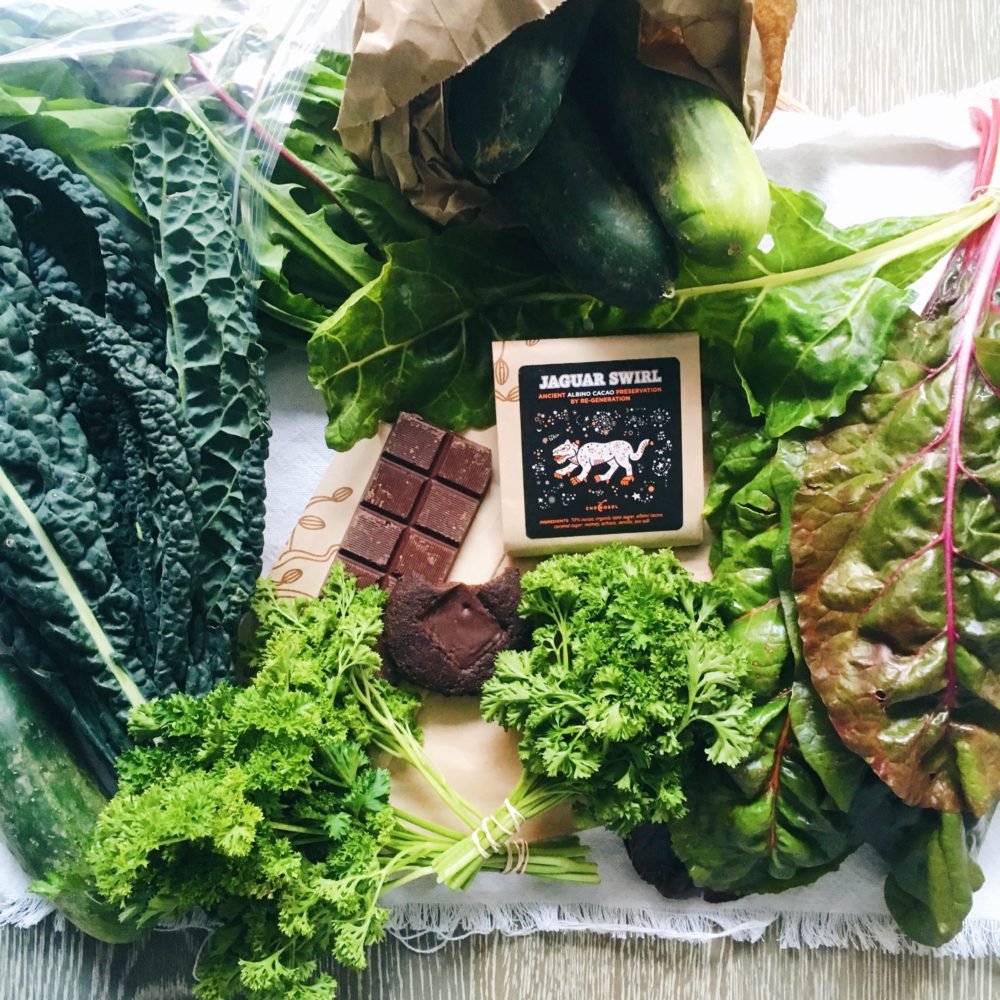 You know you're meant to feel confident in your body and around food but…
Are you "sabotaging" your success?
If you aren't where you want to be with your relationship to food, your body and life you may be blocking yourself. Here are a few signs….
You feel defeated after trying another diet in hopes of controlling your emotional eating and finally feeling good.
You feel like you are constantly hungry, food is your only comfort and now it's become an obsession keeping you from living life.
You've wasted money on countless diets, pills, personal trainers or surgery only to relapse into old patterns.
You've spent years going to therapy but still battle binges, food obsession and emotional eating.
You try a diet, lose weight, feel good for a second and then binge to reward yourself. Nothing really sticks.
You worry your friends, coworkers and even total strangers are judging you because you just can't seem to make your changes stick.
You're struggling with anxiety and depression because your emotional eating and binge eating is taking a toll on your self-esteem and self worth.
 Are you ready to evolve – to a space where food deeply nourishes you and you're able to feel at ease in your body?
Let's future trip for a moment, shall we?
You can have a relationship to food that is nourishing, without obsessing. You can have one cookie or one bite of a cake and choose not to devour it all.
You can accept your body now. Take a moment and go back to a time where you felt at ease being you. Maybe you were on vacation?
You can pass by the mirror and say something positive to yourself.
Do you want to have freedom around food and not worry about your body?
Do you want to enjoy your life and not use food as a crutch and finally figure out why?
Do you want to look in the mirror and feel confident, at ease and healthy?
I started to nourish myself without any restriction, or cutting out "certain" foods.
I ate as much as I wanted to…
My body started to change; more energy and weight was released.

I stopped emotionally eating and binge eating because I got to the root of it.
I created a a step by step plan so you don't have to figure it all out yourself or google random articles.
You can have a deep understanding of your body, its needs and rhythms. This is available to you – if you choose.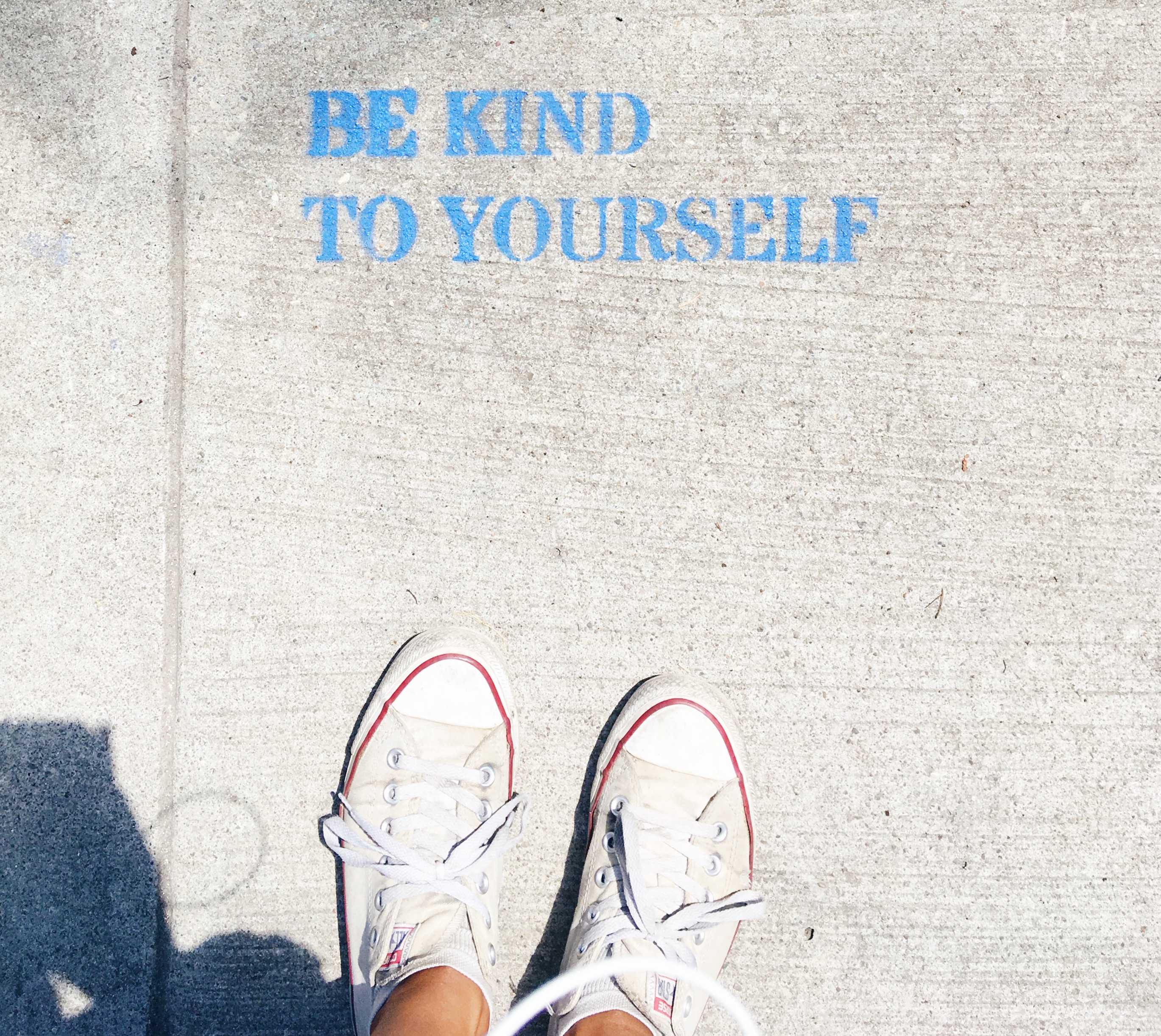 Come home to your healthy and create the relationship to food and your body you have been desiring.
You are about to enter a new level of evolution…
The Emotional Eating Evolution Program
A transformational program for ambitious women ready to resolve their emotional eating.
Be seen, guided and strategically supported to reclaim your relationship to your body, food and your life. The Emotional Eating Evolution Program is a 12-week container that exists to provide you with the practical guidance and step by step plan to truly nourish your body, accept your body and create emotional wellness in order to resolve your emotional eating from the root.
Yet underneath it serves as a deeper initiation to remember who you are and allow your deeper intuition to take the lead in nourishing yourself on all levels. The Emotional Eating Evolution Program is the place where you get to leverage the power of nourishment, body acceptance and emotional wellness. This is your invitation to opt out of the conventional noise and step onto the evolutionary path to your success.
T H E   T R A N S F O R M A T I O N
In this safe container of The Emotional Eating Evolution Program you will deeply connect with yourself to allow you to come home to your essence.
Feel at ease around food
Feel at ease in your body
Feel at ease emotionally
A deeper look at the 12 week evolution…
.
PHASE 1 (weeks 1-3): The Foundation of True Nourishment
learn the language of hunger in your body

Start deeply nourishing your body beyond calories alone

Strategic digestion to optimize mood and gut health

Morning ritual to ground and energize you and discern true hunger

Strategic guidance and creating meals that honour your body and it's rythyms, optimizing mood while reducing bingeing
PHASE 2 (weeks 4-6): The Foundation of Body Acceptance
come back to your true worth

learn acceptance of the body that leads to appreciation

learn your body's rhythms and rituals to optimize and care for it, optimizing mood and 

reducing

 emotional eating
PHASE 3 (weeks 7-9): The Foundation of Emotional Wellness
The core of the program diving into the unresolved pattern around emotional eating

Process, resolve + integrate emotions that have been running the show from a somatic level (unprocessed emotions live in the body)

Embody a new way of being that is compassionate and meets your true needs +  setting boundaries

PHASE 4 (weeks 10-12): Lifestyle
tie it all together with deeper practices connecting your to your body

practical tools to integrate this as a sustainable lifestyle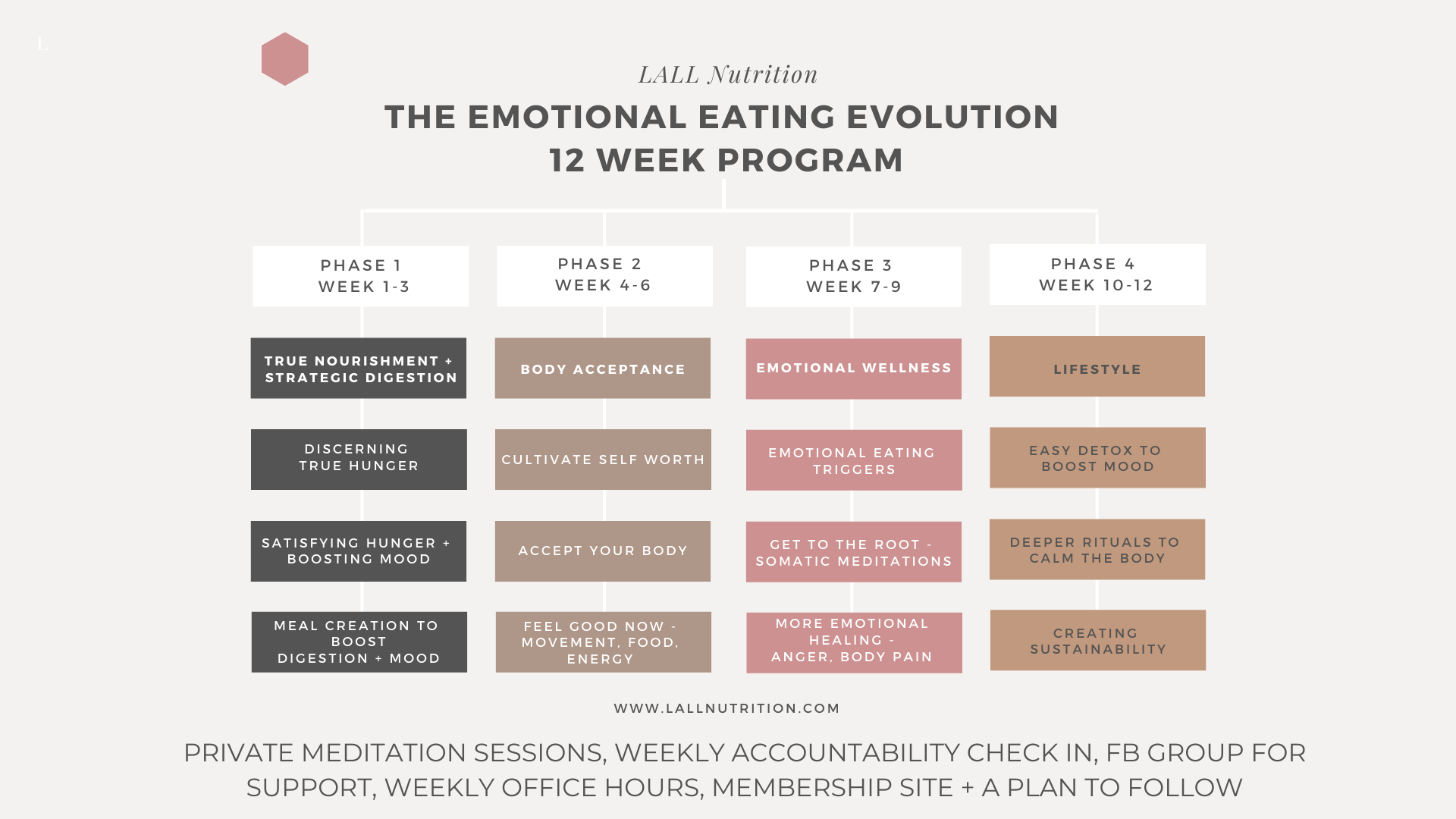 12 Weeks Access to Live Coaching
Initial Private 1 hour 1:1 Health Assessment which includes a fully customized protocol with additional dietary, supplement and lifestyle guidelines specifically for you.
Additional 2

 x 90min 

Private 1:1 Somatic Meditations to successfully move past deep rooted blocks/resistance to feeling at ease around food and in your body.

12 Weekly coaching sessions for support + to keep up momentum, gain clarity and review your progress and make updates to protocols as needed so you move forward powerfully.

Weekly review of your food/mood/symptom journal to offer ongoing dietary suggestions.

Daily support in the private client only Facebook group from Michelle to celebrate and encourage you throughout the week.
Lifetime Access to Course Content
12 modules on digestive health, true hunger + nourishment, self worth, body acceptance, and emotional wellness

 

with over 30 audio/video lessons with downloadable PDFs and additional resources to move past emotional eating.
4 guided somatic meditations to connect you to your body and get to the root of your emotional eating daily.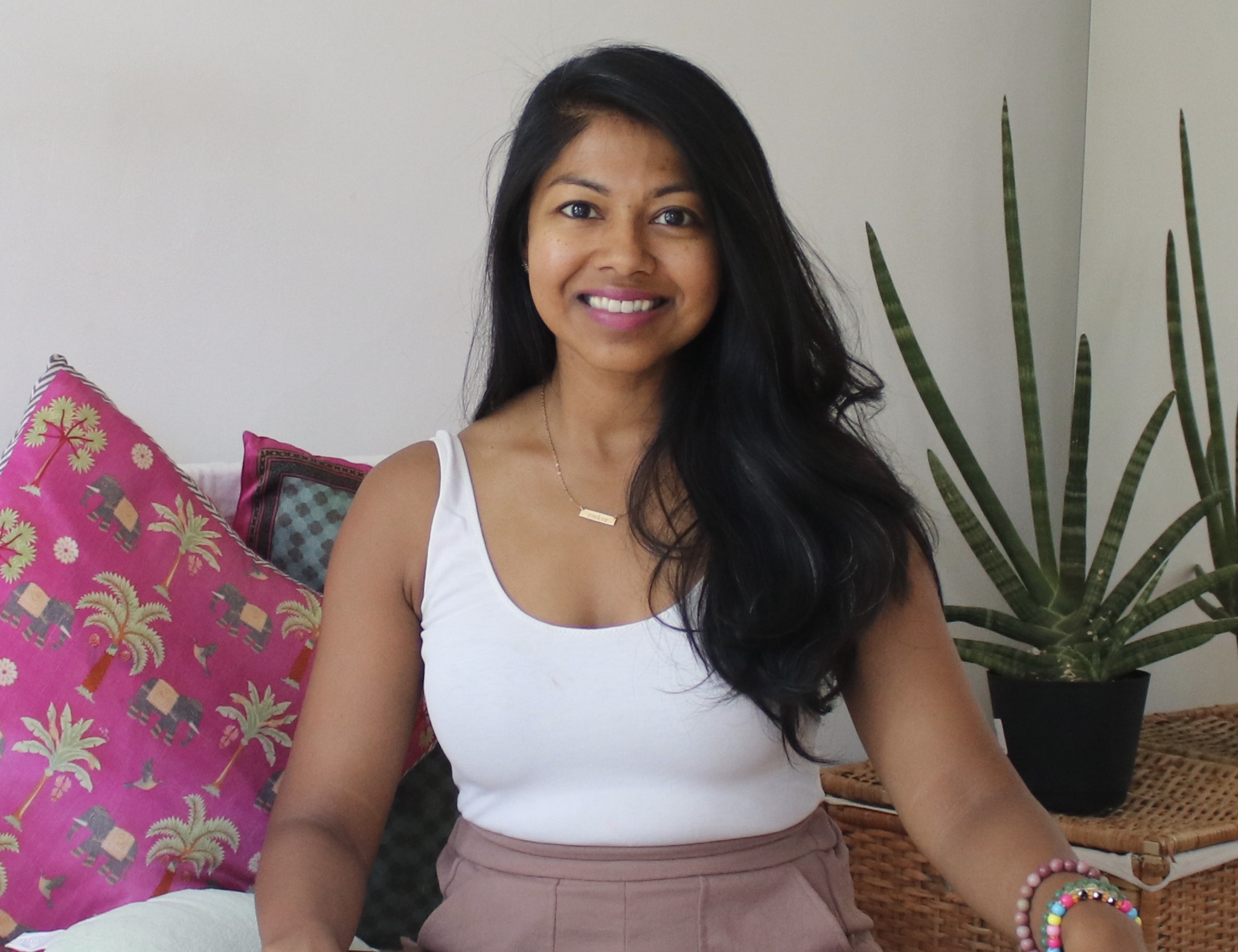 Are we a fit?

Michelle Lall BSc (Hons), BEd, CNP is a Toronto based Certified Holistic Nutritionist who works with women who are experiencing emotional eating and body issues. She founded LALL Nutrition as a way to support women to reclaim their relationship to themselves, their body and health in a holistic way.
Michelle helps her clients to get to the root cause of their emotional issues so that they can have a healthy and happy relationship with food and their body that actually creates results with their health goals.
Michelle combines her solid grasp of biological chemistry, experience as a certified high school teacher, background training in holistic nutrition + somatic psychotherapy (trauma-informed) to support her clients in developing a sustainable way to achieve health on all levels; physically, mentally, emotionally, and spiritually.
Michelle has continued expanding her understanding of trauma and resolving emotions from the core in a 2 year program in transformational somatic psychotherapy to further help clients get to the root of their emotional eating.
All of her training and trial and error experience lead her to this career path and the creation of her signature program The Emotional Eating Evolution Program.
Are you ready to feel at ease in your body and around food?
I worked with Michelle for 12 weeks and the experience was life-changing.
She was able to guide me through a variety of sustainable changes that I could make, given my busy work and family schedule.
Her knowledge, guidance and continued support gave me the confidence I needed to make healthy meals and make better nutritional choices.
This ultimately led to an increase in energy, I was able to lose 10 pounds and feel much more confident in my own skin.
How did you feel before working with Michelle?
I suffered from low self-esteem, body-dysmorphia, binge eating, occasional laxative abuse, constant bloating, low energy and strength, constant knee pain at the end of a day, and also I experienced insomnia because of the anxieties, just to name a few things.
How did you feel after working with Michelle?
I feel very strong and energized every day! My mood is stable, my social anxiety is almost gone.
I definitely can say that I feel more connected to my body and confident that now I am on the right track.
Working with Michelle came at a great time for me. I was feeling very discouraged with my health concerns and was lacking the motivation to make any real strides to solve them.
Right after our first call I knew I wanted to work with Michelle. She is so easy to talk to and I felt so comfortable with her from the beginning.
Since working with Michelle I am much more in tune with myself and my body, and my relationship with food. Her guided meditations were invaluable to me and opened me up to feelings I had let go and ignored – allowing me to face them in a positive way.
I got so much more out of this 12-week program than I could've imagined and I'm super grateful that I got to work with her.
I would highly recommend her services if you're looking to begin your self-care and self-love journey. I will be practicing what Michelle taught me for the rest of my life.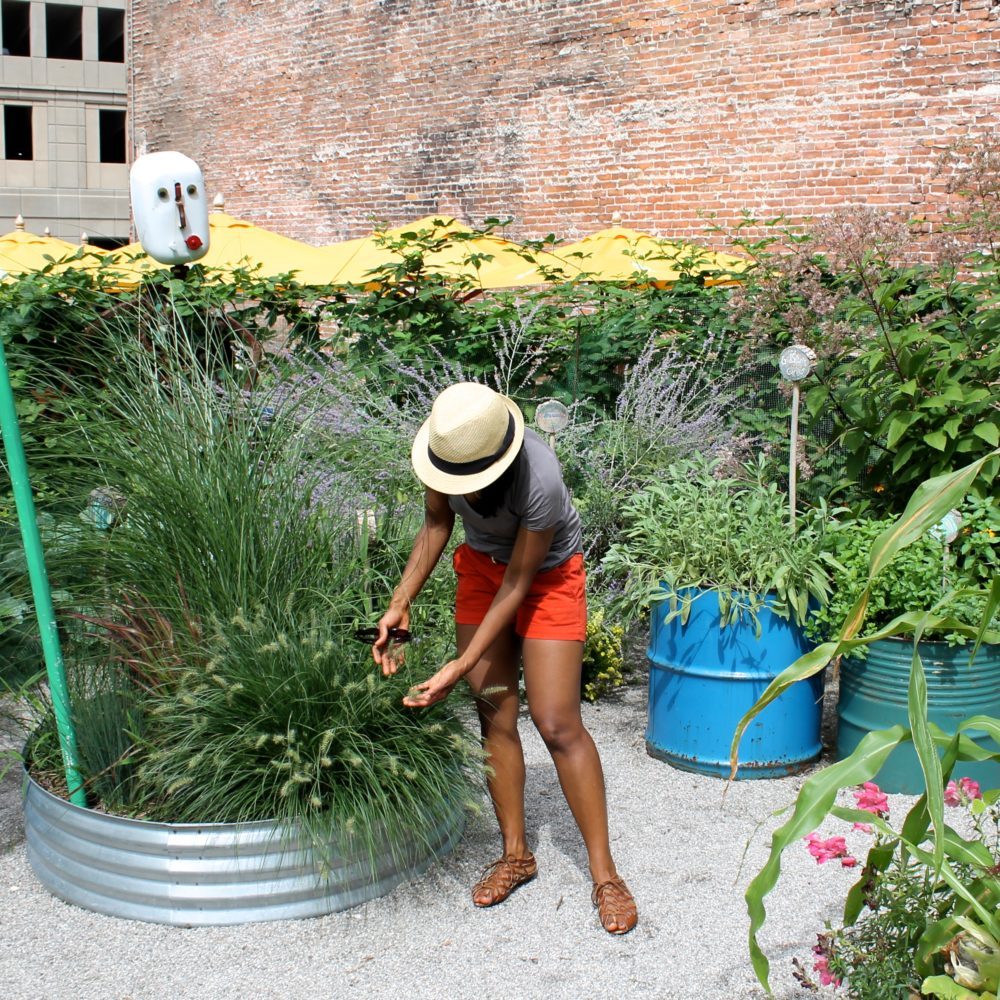 This is for you if…
Ready to stop what hasn't worked and focus on a new proven way
Know a new way means ups and downs but are committed
Want to learn about true nourishment, body acceptance and emotional health and how it affects your wellness and confidence
Are coachable, can ask for support and accountability
TIRED of trying and failing and only getting short term results.
If you know investing in your health is the only way to get results and not stay stuck on the diet merry go round.



What do you choose?
Choice #1
The Emotional Eating Evolution Program; my step-by-step process to help you move past your emotional eating. 
Imagine, you've just finished the last call of The Emotional Eating Evolution Program with Michelle. 
You are do deeply grateful, you've come so far in your journey of resolving your emotional eating. Your binges have subsided, you feel at ease in your body and around food.
You have a deep understanding of why you were emotionally eating and now feel empowered with the right tools.
You feel confident in your body and not at the mercy of food. You take this confidence with you to live a more nourishing and satisfying life.
Imagine, you've read this page again and again. You've consumed the free content and you feel the pull to join the program and embark on an amazing journey.
But you let your ego take over all the excitement you are feeling. You opt to stay "safe" which is really uncomfortable as your emotional eating continues on.
Or you stay in the vicious cycle of another diet or fitness plan from someone without much training or a proven system with sustainable results.
Get Results like these Women
I am so glad that I signed up with Michelle and completed her program. Michelle helped me connect to the part of myself which felt alone, neglected and hidden. The somatic meditations during our sessions helped me uncover a lot of blocks within myself which I was not able to see by myself.
Her program also made me realize that progress is made in small steps, one day at a time and it is okay to not be perfect. You just have to keep marching forward.
I ended up getting by the end of the 12 week program was so much more than that. Michelle also helped me so much with my emotional eating.
She really helped me see what feelings were beneath my food cravings and supported me in facing those emotions and finding healthier ways to handle them.
I highly recommend working with Michelle! Not only is she super knowledgeable and fun but she can help you through the tough emotions that prevent you from reaching your health goals.
Thank you Michelle for all of your help!!
Before I hired Michelle, I was so tired of my emotional/chocolate eating and binging that I needed to do something. Because of this emotional eating I was always gaining weight and yo-yo dieting (self-image issues!). I was ashamed that I was able to lose weight and then gain in back fast…a real cycle for years!
I found Michelle on Facebook and I decided to book a free consultation with her. Right away I had a good feeling; she pays so much attention to what we tell her and her voice is so soft and relaxed!
The first week I started with Michelle, I did what she told me to do and I saw a difference right away! The lemon water every morning, the probiotics, the food combination, the real hunger cues….wow! That "nourish your body" part is crucial. I felt so better/so more satisfied with my meals without eating more.
Then, the meditation started….this was hard for me to open up and dive deep in my emotions but I became so more aware now of my triggers and emotions that make me going into the chocolate! This is a huge WIN. I still have work to do but Michelle was so good with helping me in that area as well. She gave me tools.
Finally, this program changed me, and it is not an easy journey to stop eating chocolate to numb my emotions, but I have the tools now to help me. I feel great and more confident around food, and also in my body as it is. Thank you so much Michelle!
Wondering If You're A Good Fit For The Emotional Eating Evolution Program?
Let's chat. We'll discuss what's going on with your emotional eating, what you may be missing in terms of a solution, and if working with me is the right fit for you. I'll also go over exactly how the emotional eating evolution protocol works. 
Three things to know:
I work with clients worldwide and all coaching is done online.
Spots for these calls are limited each week. Only book if you are 100% committed to moving past emotional eating for good.

 

Calls are 30 minutes in length and completely free. No strings attached.

 
Book your free call.