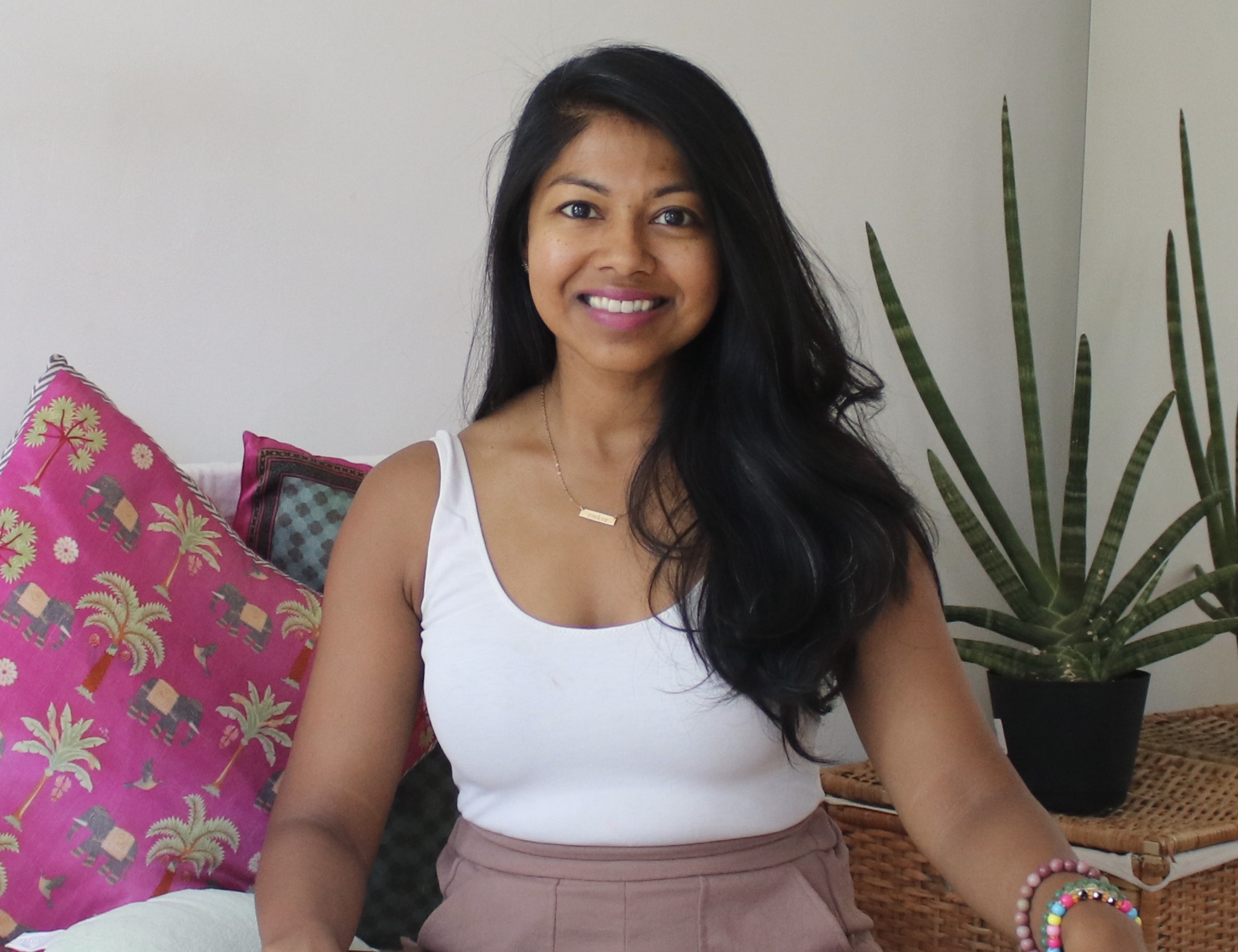 Michelle Lall BSc (Hons), BEd, CNP
Certified Holistic Nutritionist + Emotional Eating Expert/Guide
ABOUT
Michelle Lall is a Toronto based Certified Holistic Nutritionist who works with women who are experiencing emotional eating and body issues. She founded LALL Nutrition as a way to support women to reclaim their relationship to themselves, their body and health in a holistic way.
Michelle helps her clients to get to the root cause of their emotional issues so that they can finally feel at ease, free and confident in their body and around food.
Michelle combines her solid grasp of biological chemistry, experience as a certified high school teacher, background training in holistic nutrition + somatic psychotherapy to support her clients in developing a sustainable way to achieve health on all levels; physically, mentally, emotionally, and spiritually.
From a young age Michelle wanted to cure HIV and Cancer. She pursued a specialist degree in biological chemistry in an effort to go down this path. At the same time she struggled with poor body image, low confidence, emotional eating, acne and weight gain. She spent the better part of high school and into her early 20's yo yo dieting, overly exercising, having disordered eating + emotional eating issues.
At some point she hit rock bottom – all the restrictions and mental anguish had reached a peak and she had to find a better way. 
At the peak of her health issues she was on a path to finding more purpose and passion in her career. She worked as a chemistry TA, an analytical chemist, taught in Korea, worked in administrative research at the hospital and pursued a teaching degree. When all career paths seemed to miss that passion she wanted she followed the next intuition she had. 
Her personal and professional paths merged when she started to heal her relationship to food, her body and her emotional eating. She was inspired and wanted to share what she had experienced in a more profound way. She decided to enrol into Holistic Nutrition school to help others do the same. 
While a holistic nutrition covers emotions to a degree, Michelle has continued expanding her understanding of trauma and resolving emotions from the root in a 2 year program in somatic psychotherapy to further help clients get to the root of their emotional eating.
All of her education, training and trial and error experience lead her to this career path and the creation of her signature program The Emotional Eating Evolution Program.
Fun Facts About Michelle
She has travelled to over 30 countries to date. She has lived or spent a significant amount of time in the following countries: Canada, Trinidad, South Korea, France and Puerto Rico.
She has a special fondness for the French and their relationship to food. She spent a significant amount of time in France having done 2 summer language exchanges in Tours. She is also certified to teach high school French.
Michelle is a mom to an amazing 7 year old boy named Parker. She strives to raise him in a conscious way and uses her experience as a mom to inform her work with clients. 
CLIENT TESTIMONIALS
I'm so glad that I decided to work with Michelle.  I originally just wanted to make some simple dietary changes to feel more energetic during the day but what I ended up getting by the end of the 12 week program was so much more than that.
My skin cleared up, I lost weight and I was able to create really healthy habits that will serve me for the rest of my life.
I used to hate cooking but now I've learned to make a few really simple and healthy meals on sunday nights so that I always have nutritious and tasty options available throughout the week.
Michelle also helped me so much with my emotional eating. 
She really helped me see what feelings were beneath my food cravings and supported me in facing those emotions and finding healthier ways to handle them.
While I was working with Michelle I was going through a difficult breakup and she was so supportive and encouraging.  Her energy is so warm and uplifting and I always felt better after a call with her.
I highly recommend working with Michelle!  Not only is she super knowledgeable and fun but she can help you through the tough emotions that prevent you from reaching your health goals.
Thank you Michelle for all of your help!! 
Alanna L. | HR Specialist, Toronto, ON
CLIENT TESTIMONIALS
Working with Michelle came at a great time for me. I was feeling very discouraged with my health concerns and was lacking the motivation to make any real strides to solve them.
Right after our first call I knew I wanted to work with Michelle. She is so easy to talk to and I felt so comfortable with her from the beginning.
Since working with Michelle I am much more in tune with myself and my body, and my relationship with food. Her guided meditations were invaluable to me and opened me up to feelings I had let go and ignored – allowing me to face them in a positive way.
I got so much more out of this 12-week program than I could've imagined and I'm super grateful that I got to work with her.
I would highly recommend her services if you're looking to begin your self-care and self-love journey. I will be practicing what Michelle taught me for the rest of my life.
Sam L. | Graphic Designer, Toronto, ON
EDUCATION + EXPERIENCE
Since 2013  Michelle has been helping clients ditch dieting and emotional eating. She has pivoted roles from various industries and pursues her dream career as a certified holistic nutritionist + emotional eating expert. As a former biological chemist and certified teacher, she has a unique lens of creating health holistically for women.
Lifespace Institute Transformational Counsellor Training (Trauma informed) 2019 – 2021

BSc (Hons) Specialist in Biological Chemistry + Minor in French as a Second Language from the University of Toronto 

BEd High School Chemistry, Biology, French from OISE at the University of Toronto 2011-2012

CNP (Certified Nutritional Practitioner) – Institute of Holistic Nutrition in Toronto 2012-2013

Internship

in Living Foods Lifestyle 

– Ann Wigmore Institute, Puerto Rico (1 month)

Raw Foods Lifestyle Program -Ann Wigmore Institue, Puerto Rico

Elementary Teacher, Peel Board in Mississauga 2011

Research Admin Assistant, Sunnybrook Hospital in Toronto 2008 – 2010

English Teacher, South Korea 2007 – 2008

Analytical Chemist 2005-2007 

Chemistry TA  2005