Meet Michelle
The Certified Holistic Nutritionist behind LALL Nutrition
Hello!
I'm Michelle Lall, the Holistic Nutritionist behind L.A.L.L. Nutrition.
I used to struggle with my health too; In high school and into my early 20's, I thought I was destined to be overweight with acne.
But Today…
As I look back at that person I was it's hard to believe I went through all of that but I did and I learned a lot. Through countless approaches, such as various diets, counting calories, eating meat, not eating meat, low fat, no flavour, dermatologists, emotional and spiritual work, working out and much more I've learned what works and how to help others do the same.
I found out what worked for me and I am glad to say the way that I eat and live now is so much more freeing.
I never feel deprived, I love my food and I have more energy than I did as a teenager – I want you to feel that way too!
It wasn't until I realized that I needed to look at the food on my plate in a different way and not simply as calories to be burned at the gym that I experienced real transformation. When I realized how to use food to truly nourish my body, mind and soul (yay!) I was free.
I don't count calories when I eat or when I work out anymore. It truly is an amazing feeling to not worry about calories and to be able to enjoy eating. Deprivation is the worst! I still eat desserts and chocolate too – addict here; it is definitely part of a healthy lifestyle!
I believe it takes time to change and with simple shifts you can take control of your health; progress over perfection creates true and lasting results. I get that it is hard to completely overhaul your way of eating and living. We have emotional ties to food, we have cravings and we love our guilty pleasures. One change at a time can be powerful and doable. This is how I have changed my life and health and you can too.
I am a passionate advocate about health and wellness and strive to lead by example.
You can find me at farmer's markets, browsing the health and wellness section at Chapters, following healthy recipe blogs, reading health focused books, working out, walking around my neighbourhood with my babe in tow, cooking and using whole foods in my meals and relentlessly talking about nutrition!
It Started in High School…
Throughout high school I experimented with skipping meals and was pretty much anorexic for about 8 months at one point. I didn't really know how to eat well. Yes, I ate vegetables but I also ate copious amounts of cheese, pasta and bread to sustain me. Not that there is anything 'wrong' or 'bad' about these foods I just didn't know how to have them in a healthy way. These foods probably didn't help my skin either. I was obsessed with finding the right cream or potion to help my acne. I never had more than one big pimple at a time but it always left a mark on my face and they added up! My skin was also pretty oily and I was so self conscious about it. 
The weight + skin issues made me feel really unattractive and my self esteem plummeted.
University…
Into university I saw a dermatologist that helped my skin but also told me I would always need to see him as my acne was 'genetic'. I learned to workout and eat better  (read bland vegetables + no fat) but I felt deprived and it didn't stick. I also experienced binge cycles due to my many restrictions around certain foods (mainly desserts  – cakes, cookies, chocolate) and to repress my emotions. 
It wasn't until years later I realized these binges stemmed from emotionally triggering situations and I needed to acknowledge and feel the emotions underneath.
Nearing the end of university I found a vegetarian eating plan to help me lose weight. It worked for a while but it was focused on calorie counting. Ugh. Eventually, I began to gain weight eating the same amount of calories. I hadn't yet realized the connection of stress to weight gain. I was going through a breakup, moving, and experiencing massive financial difficulties.
 After University…
I finally found another solution that I thought would help – I went to see a nutritionist. She told me I needed to start eating meat. I was vegetarian for about 13 years at that point. At the end of our 2nd session she handed me a meal and supplement plan and sent me on my way. I bought the supplements and tried the foods but it was all too much and I felt overwhelmed. There was no real support.
I was discouraged and gave up. I started eating whatever I wanted. I ended up moving to South Korea pretty soon after to teach English. I ate everything, well at least in the first month. I was teaching at an English school and ate what they ordered for the staff – a variety of foods including fried dumplings and oily take out. I ate so much it was insane. I gained some more weight. My skin started to feel gross and oily. I also  felt so so sh*tty in my body.
I knew I needed to do something. 
This was one of the first times I tried to find balance. I started to cook at home, eat at regular times, eat more veggies and fruits, and chose 'healthier' options. I made small changes at a time. I also stopped restricting myself from any foods. I still struggled with binging but deprivation was not the way to go anymore. Weight slowly came off as I focused on being healthy not thin.
There was still the issue of binging that I couldn't quite control. I became curious and learned everything I could about it. I realized that when I became stressed or emotional I would binge!
In order to help myself I researched and found an amazing resource that talked about the emotional triggers of binging. Through this practice I was eventually able to recognize when I was triggered and able to circumvent the binge and go into the real issue. This eventually stopped my emotional binging as I got to the root cause of the issue – my repressed emotions.
This was such a victory to me!
Things were starting to make sense but I had more work to do. I had done an exercise a few years back on accepting my body. After years of reminding myself about the strengths of my body I reached a point where my old beliefs about being a certain size or looking a certain way became unbearable. This freed me on another level – I accepted where I was. This is not to say I was fully confident in my body but I was sick of feeling not good enough. From this space I now wanted to see what my healthy looked like without all the criticism in my head.
This was an experiment in finding out the right size, and weight for me that was healthy and not a number on a scale or a calculation. I was inspired and really committed to this. I learned more and more about nutrient-dense foods, read all the books I could find on health and alternative therapies, and started to really change how I ate. I started to really understand my body and food, what I craved (more vegetables!), how to strategically eat to optimize my health without deprivation and much more. It became easier and easier for me to make simple changes that resonated with me and boosted my health.
With each change my body got slimmer, leaner and more energetic but in such a sustainable way – this was where 'my healthy' was taking me. I wanted to move more, walk more, go to the gym more because I craved movement. My skin started to glow and that 'genetic' defect I thought I had miraculously disappeared! I had been on dermatological prescriptions for over 8 years to manage my skin and now it was not even an issue.
I loved eating healthy nourishing nutrient dense foods and went back to being plant based – what works for me.  As I ate more nourishing foods I began to crave them more and realized how other foods made me feel. I was able to choose the feel good foods more and more and let go of the ones that drained me and made me feel bad.
I was so lit up by living and breathing a healthy lifestyle that I wanted to teach others about this! I enrolled in nutrition school and combined with my degrees in biological chemistry and teaching it was the perfect way to use my education and passion.
Other tidbits:
I love to travel; I've been to over 25 countries on 5 continents, lived in Trinidad and South Korea and have done 2 summer exchanges in France. I speak french fluently but am too shy (and probably out of practice) to speak it.
The running theme here is the French. I basically love all things French and I especially love the way the French relate to food. Check out this post I wrote!
I am also a new mom to my sweet boy Parker! The biggest teacher in my life right now 🙂
To Living And Loving Life!
~Michelle
Contact me today or Book Consultation Here.
Why I do what I do.
The goal of my business and website is to make you feel vibrant, alive and happy so that you radiate health from the inside out.
I do this through free content in the form of articles & vlogs and by offering you individualized private services directly with me.
How I can help you create your best health and beauty.
As a Holistic Nutritionist, I assess the food that you eat and your lifestyle in order to recommend simple changes that can help you to reach your health goals.
Looking at your whole health history, symptoms, environment and stress levels, I can create a customized plan that explains how you can regain your health and beauty. It's like being provided with a road map to vibrant health with me as your personal, one on one tour guide!
Essentially I'm here to show you how to be Beautiful from the Inside Out! As you rebuild every cell in your body, you will both LOOK AND FEEL BEAUTIFUL as you transform your health! Book your consultation today.
The Benefits:
Connecting to your body, accepting it and coming back home
Getting to the root cause of emotional eating and resolving it
Clear & Glowing skin free of eczema and acne
Feeling refreshed when waking up; less grogginess
Feeling energetic after meals, not weighed down
Shiny healthy hair and nails
Clearer eyes and reduction of dark undereye circles
Reaching YOUR healthy balanced weight with a toned and leaner body
Better digestion; no bloating after meals or looking pregnant (when you are not!)
Freedom from chronic issues pertaining to diabetes, heart disease, inflammation, food intolerances, digestives issues, acne, etc.
Freedom from calorie counting
Not needing to depend on fancy clothes or makeup to feel beautiful (but they are nice accessories!)
Eating with pleasure while nourishing yourself
Feeling vibrant and alive
Professional Bio
Michelle Lall B.Sc. (Hons), B.Ed., CNP, completed her certification for the Holistic Nutrition Program at the Institute of Holistic Nutrition in Toronto where she earned her designation as a Certified Nutritional Practitioner. She also holds an Honours Bachelor of Science degree from the University of Toronto specializing in Biological Chemistry and a Bachelor of Education from the Ontario Institute for Studies in Education at the University of Toronto for high school Chemistry, Biology and French. In addition, Michelle is a certified teacher through the Ontario College of Teachers and has been awarded a certificate in the Living Foods Lifestyle from the Ann Wigmore Institute in Puerto Rico.Michelle is currently enrolled at Lifespace Institute of Transformational Psychotherapy and Counsellor Training.
Michelle combines her solid grasp of biological chemistry and her background as a certified teacher with her passion for food and nutrition to assist her clients in developing a sustainable way to achieve health on all levels; physically, emotionally,  and spiritually. Michelle works with women who suffer with emotional eating and body issues. She helps them get to the root cause of their emotional issues so that they can have a healthy and happy relationship with food and their body in a sustainable way.
Michelle is a charismatic speaker and educator who has educated high school students on nutrition, demonstrated food preparation, instructed classes on nutrition for small groups, and has taught at a retreat about the Living Foods Lifestyle and Raw Food in the Muskokas.
Before pursuing her passion for nutrition and all things food related, Michelle worked in the science, research and public education sectors were she discovered and honed her passion for nutrition, holistic health and raising awareness of preventative health. Michelle is also passionate about travelling and has travelled to over 20 countries, and has lived in South Korea and Trinidad and has stayed extensively in France. She hopes to merge her passion for travel and nutrition with worldwide retreats that engage people in expanding their view of nutrition and themselves.
Michelle hopes to educate others on living life in a balanced and healthy way with the concept that the purpose of life is to enjoy every moment. Hence L.A.L.L. Nutrition was born, which stands for Living And Loving Life. Get in touch with her today!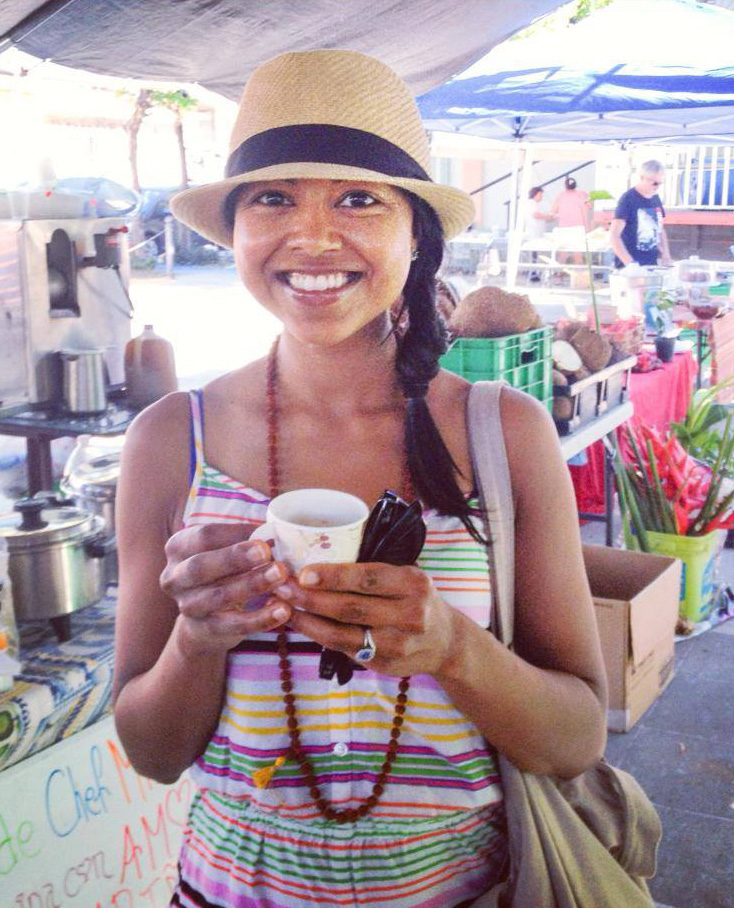 Michelle
Puerto Rico
The Ann Wigmore Centre
Yes, I'd Like to Join the Seminar
Plus weekly posts to boost your health & wellness.