I love Nori rolls but sometimes I get a bit tired with the nut pate versions that are often served at the restaurants that I frequent. They tend to be really dense and filling. This is not so great if you order it as an appetizer (I want to save room for my main course too!). The pate rolls that I created today were inspired by my internship at the Ann Wigmore Institute. These rolls are lighter, incorporate more veggies and are easier to digest than the heavier raw versions that you may have had in restaurants. Also, these are a great alternative to the more Asian flavoured rolls – variety is the spice of life my friends! My hubby gets bored with salads every so often so these were a lovely change for him. They taste amazing if I do say so myself.
I used my omega juicer to turn beautiful veggies and sunflower seeds into a smooth pate. This pate would also be super fabulous as a veggie dip served with crackers (the good kind of course!).
Spectacular Sunflower Seeds
One of the ingredients I wanted to feature today is the mighty sunflower seed, which does not receive the attention that it deserves. Not only are sunflower seeds very tasty, but they are nutrient dense, making them a great alternative to other nuts if you are looking for something different (again – variety is the spice of life!).
Since sunflower seeds come from sunflowers you know there will be a glow factor to them. Sunflower seeds are extremely high in vitamin E. Just a quarter cup provides 90% of your daily dose. This recipe contains a full cup of seeds and will give you a whopping 360% of your vitamin E intake, – so be nice and share some with somebody you love so they can get the benefits of vitamin E too! Vitamin E is an amazing antioxidant and works with vitamin C to protect you from free radicals. Sunflower seeds also contain selenium which is an important mineral that helps in cancer prevention as it promotes DNA repair. These little gems also contain magnesium, a mineral that is important for over 300 hundred enzymatic reactions in the body including fat metabolism, muscle relaxation and promoting bowel movements (oh yeah!).
These spectacular little seeds also contain vitamin B1, B5, and folate. These are essential vitamins for energy production. Folate is especially important for pregnant women as it prevents neural tube defects in early pregnancy. In addition, sunflower seeds are also full of healthy fat – good fat is great and helps with the absorption of some key vitamins.
These beauties are also high in amino acids, the building blocks of protein. Protein is essential to the maintenance, growth and repair of tissues. In particular sunflower seeds contain the amino acid tryptophan which is a precursor to serotonin. Serotonin is our feel good neurotransmitter (think thanksgiving and turkey) and helps calm the brain and promote relaxation while relieving tension and anxiety. I'd rather pop sunflower seeds than an anti-anxiety pill any day.
Soaking, Sprouting and Dehydrating
Nuts and seeds have enzyme inhibitors on them so soaking them overnight, rinsing and dehydrating them can increase the absorption of all their goodness. Dehydrating them means that they are not heated above 115F, allowing them to maintain their natural enzymes. To find out more, check out this post . If you are not able to soak and dehydrate just use raw sunflower seeds, I forgive you!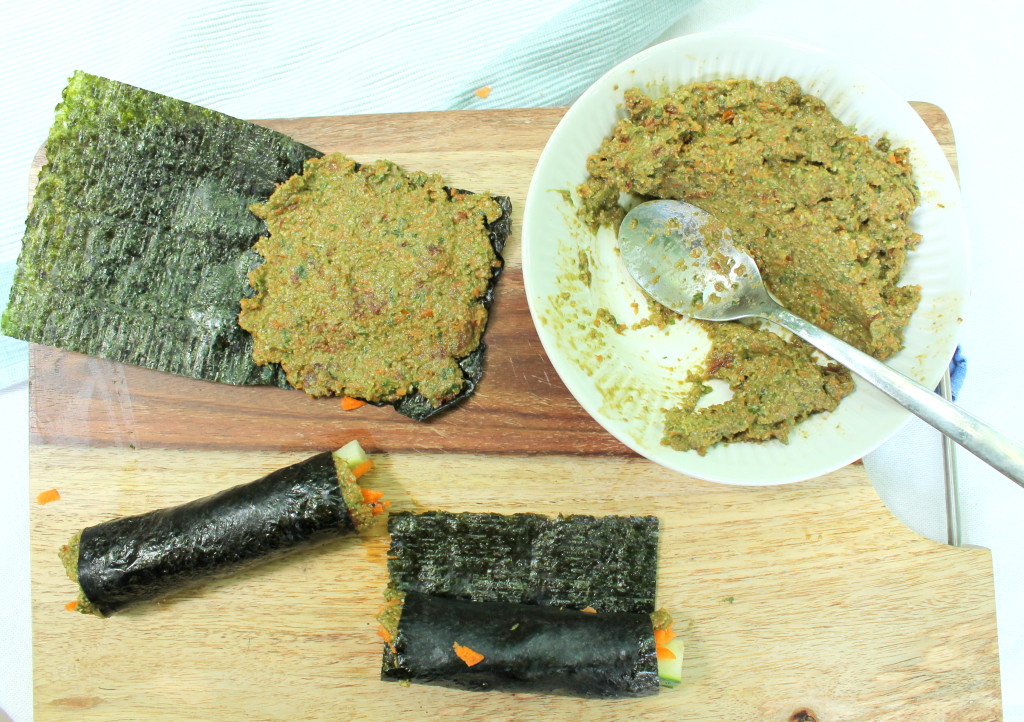 Savory Mediterranean Power Pate Rolls
Ingredients:
Please buy organic if possible
1 cup sunflower seeds (soaked and dehydrated or raw)
½ cup of celery chopped
½ cup fresh tomatoes chopped
½ cup sun dried tomatoes soaked for 10 minutes and drained
¼ cup or spring onions chopped
10 basil leaves
Juice of half a lemon
Himalayan pink salt to taste
Nori wraps
1 tbsp. nutritional yeast (optional)
Directions:
For the Pate
In an omega juicer use the attachment without a sieve and process the sunflower seeds into a powder OR use a food processor to grind the seeds to a flour consistency.
Add in chopped vegetables to omega juicer OR add in veggies to food processor (sunflower seeds removed) and process into a fine pulp.
Add both the sunflower seed flour and processed veggies to the omega juicer for a final round of processing OR process both the seeds and veggies in a food processor until they are a smooth consistency.
Mix resulting mixture well and add in the juice of half a lemon, the Himalayan pink salt and nutritional yeast to taste.
Assembling the Rolls
Add about 1 tbsp. of pate to ½ a sheet of Nori (you can cut the sheet in half or buy half sizes)
Spread mixture evenly half way down the sheet.
Add in toppings. I used grated carrots and julienned cucumbers but sprouts would be fabulous!
Roll wrap and dampen edge to close.
Slice in 2 with a very sharp knife!
Enjoy.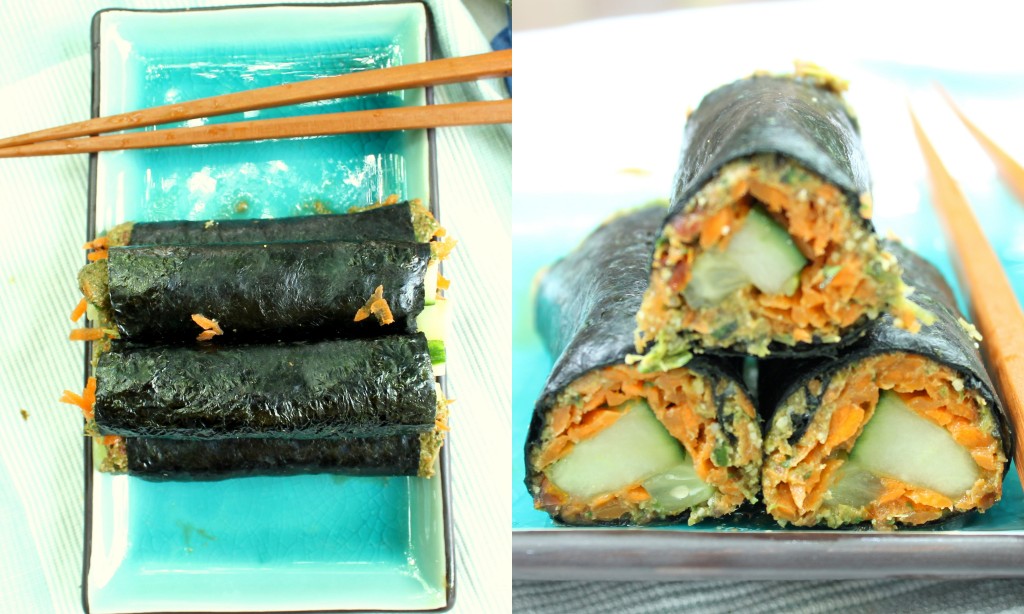 Hopefully you try this recipe -it is savory, with just the right hint of basil and sun dried tomatoes and has that umami quality that can be lacking in vegetarian fare. I couldn't get enough of them and was pleasantly surprised that my husband loved them too, since he can be a finicky eater sometimes!
Please make sure to SHARE this recipe with those bored with Nori rolls or even salads (Mon Dieu, say it ain't so). It is a great way to get a good dose of veggies into any meal and they are absolutely delicious – go make them and let me know how they were in the comments below!
Yum yum.
~Michelle
Holistic Nutritionist.