At this time last week, I was basking in the sun and defrosting from what seems like a very long, cold and damp winter! I was lucky to fly off to Trinidad with my fiancé and it turned out to be relaxing, fun and packed with things to see and do. We managed to do a lot of things on our very short trip and returned home feeling relaxed and ready to roll (sort of, I miss the sun!).
As always with every trip I go on I am most interested in the health and food aspects of the destination. As per usual I'll be discussing how to travel in a healthy manner and will focus on how I got the most restorative 'bang for my buck' while visiting Trinidad!
Before I go on a trip anywhere the first thing I do is to Google local healthy options. I literally go from 0 to 10 in excitement when I find organic markets, grocery stores and amazing places to stretch my legs! I love food and seeing it in an exotic context is even better. I also love reaffirming a healthy lifestyle wherever I go. While researching I found a permaculture farm, a green market, a few organic grocery stores, beaches, markets and bountiful nature so I knew I was going to have a good time on this trip.
Below I discuss some of the places that made my stay memorable and restorative!
Wa Samaki Farm is an amazing 30 acre farm that was established 15 years ago. I had a tour with the owner and he passionately explained the 5 zones of permaculture, the history of his farm and gave us a tour to see the fruits of his labor. I must say this was more than a farm; it looked like a lush tropical forest with every plant working in ecological harmony with the other plants, animals and soil. This system of farming is quite sustainable and takes into account the farmer, the land and nature; even the plants that are sold to sustain the farm are planted and harvested in a manner that minimally affects the environment. Simply amazing!
 2. San Antonio Green Market, Santa Cruz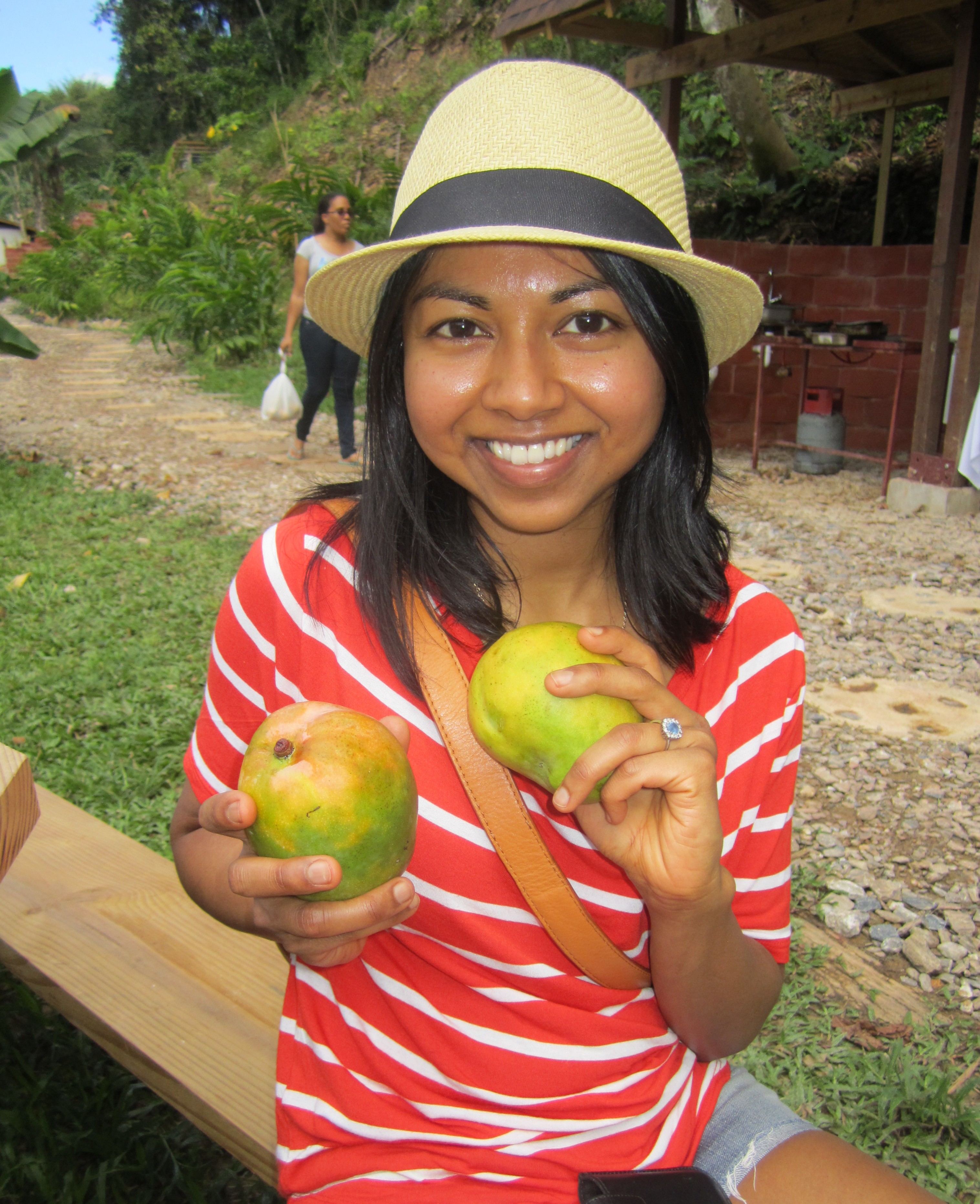 This market has only been in operation for about a month or so and is found 15 minutes north of Port of Spain. This market is not purely organic but there is a lot of local produce. I specifically went to the market to find local fruits and hit the jackpot with pomme cethyre , graham mangoes, sapodilla and silk bananas. We also got a hold of some local 99% drinking cacao. YUM. My fiancé and I arrived at the market at around noon so many vendors had left for the day after selling out their produce, prepared food and products. I suggest arriving earlier in the day to get a fuller experience.
3. The Botanical Gardens, Port of Spain
This garden was located right around the corner from our hotel. We decided to take a stroll and ended up getting a private tour from a local guide. Many of the trees and plants found in this garden are not native to the island but were brought by the British. We had the opportunity to see a red cotton silk tree flower (so pretty!), smell eucalyptus leaves, cinnamon leaves and bay leaves. We also had the opportunity to touch the inside of the fruit used to make palm oil!
4 . Charlotte Street Markets, Port of Spain
Charlotte street is located just off of the savannah and is at the core of Port of Spain. We were told to be careful by the hotel staff but still ventured out and found many vendors with stalls full of fruits, veggies, clothes and snacks. It was a cross between chinatown and the tropics! I ended up buying some lemons and bananas. The fruit was local but most likely not organic but the skin on the fruits provided a decent protection from pesticides so I took my chances. I need my lemon water in the mornings 😉
My fiancé and I braved (OK, my fiancé) the narrow, windy roads on the edges of the crazy mountains around Port of Spain to get to this beautiful beach. It is the only touristy beach in Trinidad. It was beautiful to finally see the sea, jump into the salt water, and just sit in the glow and warmth of the sun and wind. This was so relaxing and something I can see myself doing more of especially as I sit here writing in minus 9 degree Celsius weather!
6. Healthy Grocers; New Earth Organics & Malabar Farms Gourmet Shop
While New Earth Organics (NEO) is tiny I did manage to wrestle up some local organic arugula, carrots and some imported cauliflower. This grocer also has pre-ordered lunches so if you like to plan ahead this may be a great option for healthy lunches while in Port of Spain. Malabar Farms Gourmet Shop was larger than NEO and housed many gourmet products. I managed to pick up some chocolate and whole grain crackers for my fiancé. After visiting Maracas beach my fiancé and I thought in future it would be amazing to rent a bungalow on the beach and stock up on groceries. These 2 places would be at the top of my list to get some good grub!
There are many more beaches, reserves and ecological tours in Trinidad that I simply did not have the time to visit. Next on my hot list is the Asa Wright Nature Reserve, Leatherback turtle watching, hiking Mount Tucuche, The Pitch Lake in La Brea, Manzanilla Beach and of course Tobago!
Hopefully you've enjoyed my food tour of Trinidad. Here's to happy and healthy travel 🙂
Michelle
Holistic Nutritionist