India is intense, INTENSE! I am back from a whirlwind trip that lasted over 3 weeks in India. My husband and I travelled to many cities and ate A LOT! I was pretty apprehensive about eating in India with all the belly (bloating, diarrhea, etc.) stories I've heard in the past PLUS I tend to eat mostly vegetables and uncooked ones at that. I must say though, I ate as well as I could, consumed a lot of fruits and vegetables and tried to stay away from too much oil (so very hard to do)!
Most people drool at the thought of eating Indian food 24/7, including my husband -me not so much. I'm not saying Indian food isn't delicious but too much of it is, well, too much for my tastes. I grew up mainly eating a Trinidadian diet which is sort of Indian-inspired but low on spices. I learned as a young adult through dieting and trying different foods that too much oil, roti (or white flour products), rice and cooked food just didn't make me feel as vibrant as I could. My current way of eating incorporates all the health knowledge and intuitive knowledge I have gained over the years which for me means lots of fresh veggies, fruits, mostly raw and no processed foods! So, today I want to share my tips and tricks to eat as healthy as possible while in India without missing out on a culinary experience and feeling pretty good doing it! I found raw organic food, green smoothies, juices and tons of fruit, even some avocados and sprouts throughout my travels but they were not the norm!
Tips
1. Bring a probiotic with you or 2! I packed Dr. Ohira  shelf stable probiotics and had them every night. I also have Green Vibrance green packs in the morning to replace my green smoothie. Sometimes I found a green smoothie (in Goa and Rishikesh) most times I didn't. Probiotics help with traveller's diarrhea, boosting immunity and keeping you feeling good!
2. I started my day with water and lemon (or lime) as often as I could. I also had some raw apple cider vinegar on hand which I used if I had no lemon. This set the stage for an alkaline, cleansed body in the morning.
3. I hydrated and drank a lot of water in the morning and throughout the day to help with detoxification, flushing out toxicity, hydration and metabolism.
4. I ate fruit until lunch to let my body detox and process the heavier Indian meals I was eating at dinner. Fruit is the most cleansing food but if you think you have symptoms of candida (bloating, and gassiness due to yeast overgrowth) after eating fruit this might not be the best option for for you. (I can help!)
5. I started lunch and dinner with a large 'green salad' or 2 (that means chopped cucumber, carrots, onion and tomato in India!) I rarely got any leafy greens, but was glad to have some living food with enzymes and water content.
6. I had chia seeds every night soaked (2 tbsp) with some dates and stevia to help boost my omega 3s and to provide extra fiber. Maintaining a good bathroom schedule is imperative to not getting sick.
7. I tried to have 'dry fry' meals including dhal fry, and drier masalas. The creamy ones tended to have ghee, cream and paneer. I tried to make it clear that I didn't want any dairy in my food. Also, South Indian food was lighter on the oils, wheat and dairy AND was easier to digest!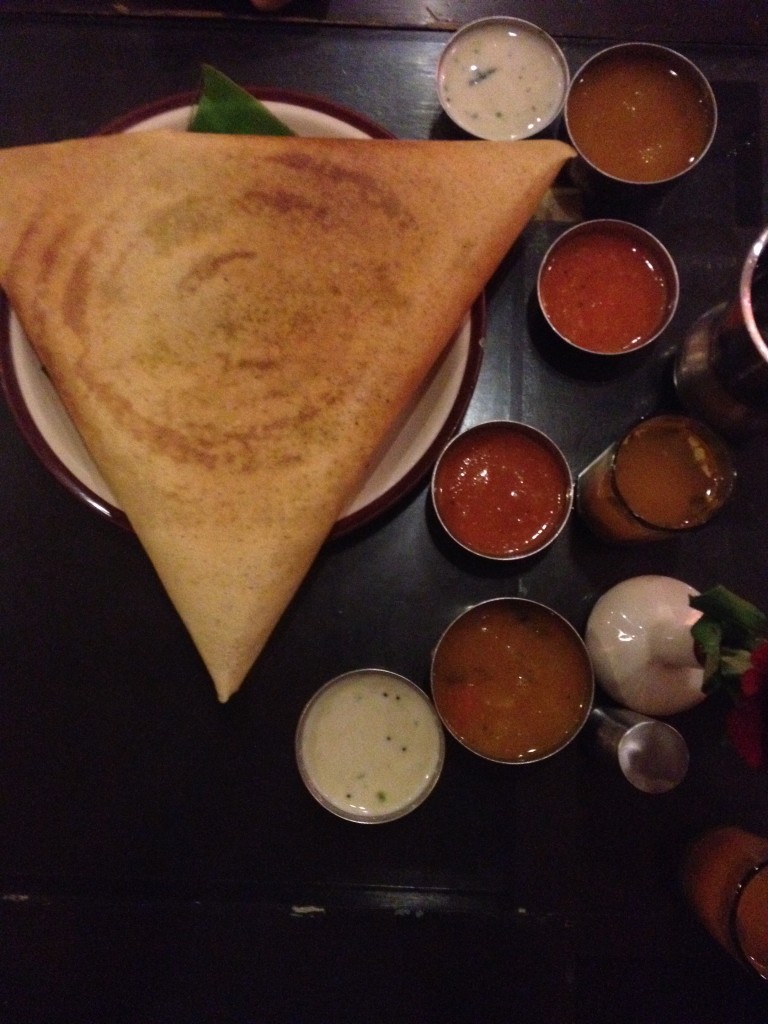 8. I used my spoonk  mat  a few times and did a mini workout every morning before eating  to help with circulation, maintain my immunity and to get my digestive juices flowing. 9. If a massage was available I got one…relaxing helps reduce cortisol and maintains immunity. India is quite the place, full of intense sounds (car horns mostly), smells (spices, urine, smoke), sights (beautiful architecture, cow dung, and garbage piles) and tastes (fresh fruits, and spices in masalas).
With all my senses maxed out it was nice to come home and eat all the organic leafy greens I could (and green juice too!).  I have been eating very clean (as I do anyways) for the last 3 weeks since being back. There has been a lot to detox in terms of the air quality, the lack of organic produce and sensory overload, plus processing it all emotionally! I am planning on doing a deeper cleanse/detox soon. It is always good to eat cleanly (plant-based, no allergens) for at least a few days before a cleanse to reduce any detox symptoms and also after a cleanse to ease back into your regular diet.
Check out some of the pics from my trip and be sure to SHARE this with anyone going to India or traveling to other amazing places so they can GLOW wherever they go! :: Love +  Travel::
~Michelle
holistic nutritionist.