Happy Sunday everyone! I am here with Sunday Salad number 2. This salad was inspired by a salad I had in New York last year from One Lucky Duck. This particular salad contains cabbage, beets, white turnips, radishes and carrots. I was lucky enough to find all these fresh local vegetables from my local farmers market!
Besides the fresh local produce this asian inspired salad contains 3 types of seaweed and a lovely miso-sesame-ginger-orange dressing. This salad is both decadent and light at the same time. I sometimes add a mix of hemp cheese as a topping but this is totally optional.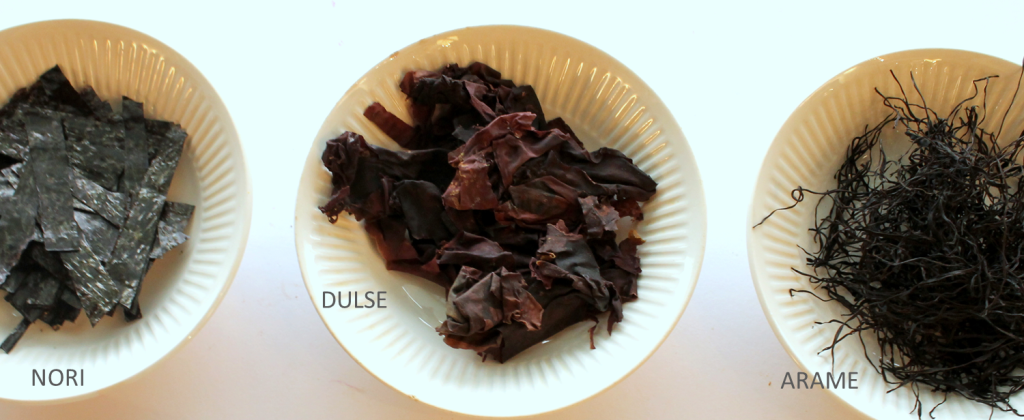 Star Ingredient: Seaweed
I include sea vegetables in my salads every day. Sea vegetables contain a rich array of minerals. With our soils being heavily depleted most land vegetables do not have the same mineral content as they once did.
Sea veggies contain minerals that help to nourish the body and hair. They contain vitamins B6, B12, vitamin E, and A; iron, zinc, calcium, potassium and magnesium.
They also contain iodine in large amounts. Iodine is great for the thyroid and having sea veggies with cruciferous vegetables can offset any adverse interactions with the thyroid as cruciferous vegetables contain goitrogens. Goitrogens can reduce the function of the thyroid gland but not if there is enough iodine in the diet.
Ingredients serves 2, please buy organic if possible
Salad
2 cups cabbage
2 small white turnips
3 small radishes
2 small beets
1 carrot
1-2 sprigs of green onions chopped
¼ cup of arame soaked for 5 minutes
¼ cup of dulse leaves
1 nori sheet cut into thin strips
Directions
Julienne all vegetables. Alternatively slice cabbage very thinly and grate remaining vegetables.
Toss mixture well.
Dressing
Originally posted here
½ cup of freshly squeezed orange juice
2 tbsp tahini ( I like to make my own!)
1 tbsp unpasteurized miso
½ – 1" freshly grated ginger
 Directions
Simply blend all ingredients in a high speed blender like a vitamix or blendtec or even a magic bullet. If you have a regular blender try grating the ginger more finely to reduce any chunks.
Add to julienned vegetables.
Enjoy!
Hemp-Flax Parmesan Topping (Optional)
3 tbsp hemp seeds
2 tbsp flax seeds
2 tbsp nutritional yeast
pinch of Himalayan pink salt
Directions
1. Blend all ingredients in a coffee grinder until powder-like (not clumpy or a nut butter consistency!)
Want more health tips and tricks?
Subscribe to  Facebook, Twitter, Pinterest, Instagram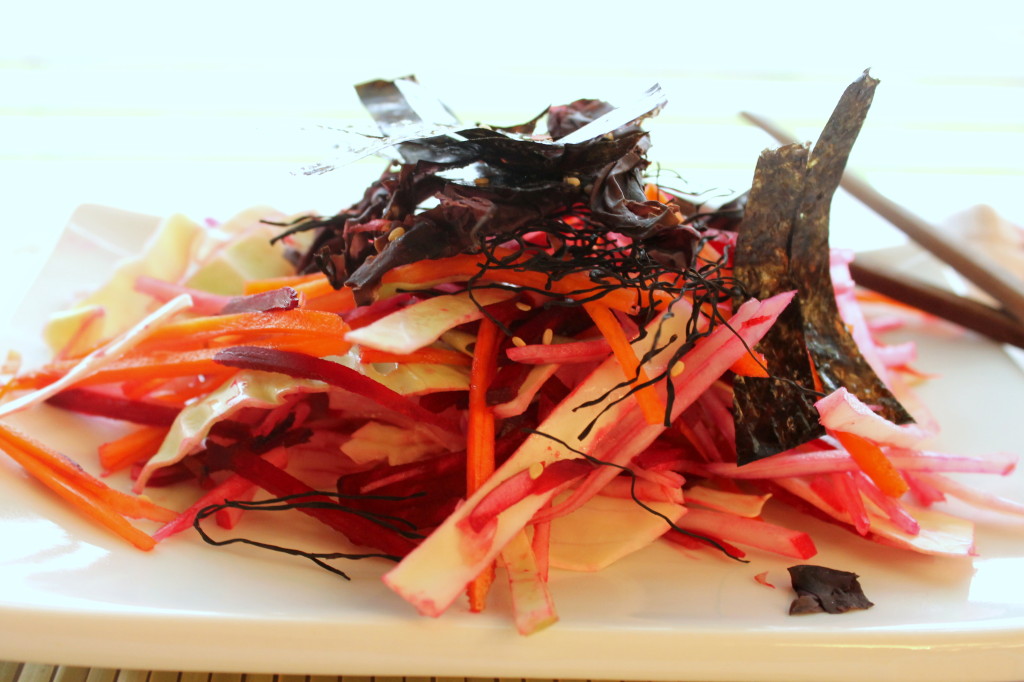 ~M