I remember my grandmother making soup for me when I was growing up in Trinidad. Her soup always hit the spot. I grew up loving soup so much that I had it in the summer on the hottest days.
My grandma original soup recipe is pretty healthy but I did make a few changes to make it a  nutritional power house! For instance, I replaced the white macaroni noodles with 100% organic buckwheat noodles and  processed butters (I'm looking at you Golden Ray!) with coconut oil. My grandma would also include dumplings (my fav) but they were processed white flour which is not great for you.As I have grown older,  I don't find myself needing or wanting the dumplings as the soup is pretty hearty on its own and the root veggies give that creamy density that we might search for in the doughy dumplings.
This soup is full of whole foods and is quite nourishing. It really is a complete meal on its own but I do like to pair it with a salad for some freshness and to round out the meal!
For the pregnant and postpartum ladies…
While I loved this soup growing up, in the last few years I have not really craved it that much until I became pregnant. I also loved it in the early weeks postpartum (and now that the weather is getting colder). This soup is very grounding die to the large amount of root veggies!
According to the Ayurvedic tradition root vegetables nourish the root chakra and 'ground' you. If you are feeling flighty and unrooted these vegetables (such as sweet potatoes, potatoes, labocha squash, onions as found in this recipe) will balance this flighty feeling.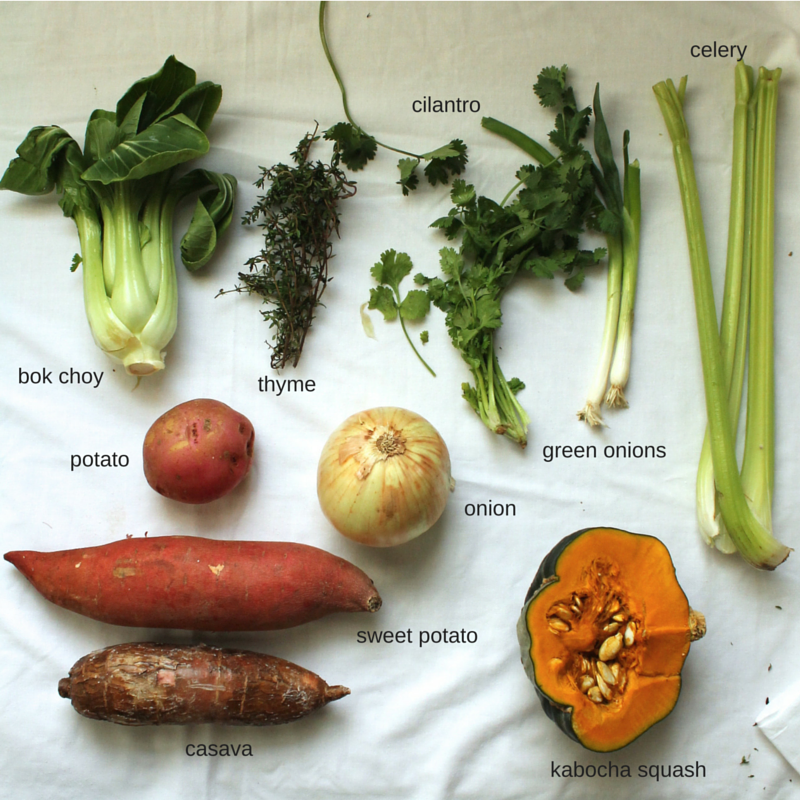 Some Nutritional Power Houses:
Sweet Potato
These beautiful orange tubers add a sweet flavour and are quite creamy. Buy organic and leave the skins on when cooking to increase the nutritional profile.
Sweet potatoes are rich in beta carotene which gives them their bright orange colour . Beta carotene is a powerful antioxidant that is converted by the body into vitamin A. Vitamin A is needed to have healthy skin. Sweet potatoes are also great at regulating blood sugar levels due to their fiber content which slows down the absorption of sugar into the body.
Sweet potatoes also contain vitamin C, another powerful antioxidant. The minerals copper and manganese can be found in sweet potatoes and are cofactors in superoxide dismutase (SOD) one of the body's most powerful antioxidant enzymes. Check out this post here on how this enzyme works!
Cassava (Yuca)
Mmmm. I love this root. I used to eat it raw (probably not good for my belly) as a kid when my grandma was slicing it up for the soup. It has a mild creamy flavour when cooked. My favourite!
Cassava is a root vegetable that is typically found in the Caribbean, South America and Africa. If you have not heard of it you might know of tapioca (a gluten free thickener) which is the starchy extract of this root vegetable. It contains high levels of manganese and folate. Folate is important in preventing birth defects and manganese is important in bone health; bone structure, bone metabolism and bone building enzymes.
Kabocha Squash
Of all the squashes this one is my favourite. It  a lovely sweet flavour. It is also very dense, creamy and comforting! We are pretty lucky here in Canada as squashes are in season. I even noticed the organic ones were cheaper than the conventional ones at my local grocers. If you buy organic feel free to cook with the skin on to get more of a nutritional punch!
Kabocha squash is one of the most concentrated sources of ALA (alpha-linolenic acid ) an omega 3 fatty acid which is particularly good for heart health. It is a very good source of vitamin A and C much like the sweet potato. These antioxidants are great for overall health and promote great skin too! These antioxidants help to reduce heart disease by absorbing free radicals which initiate damage to the arteries.
---
My Grandma's West Indian Soup Recipe
Please note this recipe can be adapted to your tastes. If you love only sweet potato then only add that, change up the greens and even the spices. This is just what I go with to bring out a West Indian flavour. The herbs are really important but please use this as a base from which to experiment!
Ingredients:
Please buy all ingredients organic if possible, Makes 4-6 servings  
1 medium sweet potato cubed
1 6" piece of cassava cubed (see this post on how to peel and cube)
1 medium potato cubed
1/2 kabocha squash or whole small cubed
1 cup yellow split peas or mung beans
1 inch diameter of buckwheat noodles
3-4 springs fresh thyme
handful of cilantro
2-3 sprigs green onions
2-3 pieces of celery
1-2 small baby bok choy
1 medium onion
1 tbs coconut oil
curry, turmeric, garlic powder (1 tsp each)
salt to taste
1 scotch bonet pepper (optional – gives a great flavour, but be sure not to let it break open unless you love really peppery soup!)
Directions:
Heat coconut oil and add diced onion and sauté on medium heat until onion is transluscent.
Add cubed sweet potato, cassava, potato and squash and sauté for 5 minutes.
Add enough water to cover vegetables.
Add lentils and buckwheat noodles and add more water if needed.
Bring to a boil then reduce heat to low-medium and add spices.
Cook for 20-30 minutes or until all ingredients are soft.
In the last 10 minutes of cooking add all the herbs, celery and bok choy and simmer.
Remove from heat and serve. Add salt and pepper to taste.
---
I really hope you enjoy my take on my grandmother's soup! Homemade comfort food can be health boosting too 😉 If you do make the soup, please me sure to leave a comment or send me an email (that would make my day!).
Peace + Root Veggies,
~Michelle
holistic nutritionist.