I know my title might sound a bit strange but I recently celebrated my birthday. There were days of celebrations. The day before with my fiance's family and on my actual birthday I celebrated with those closest to me with a dinner.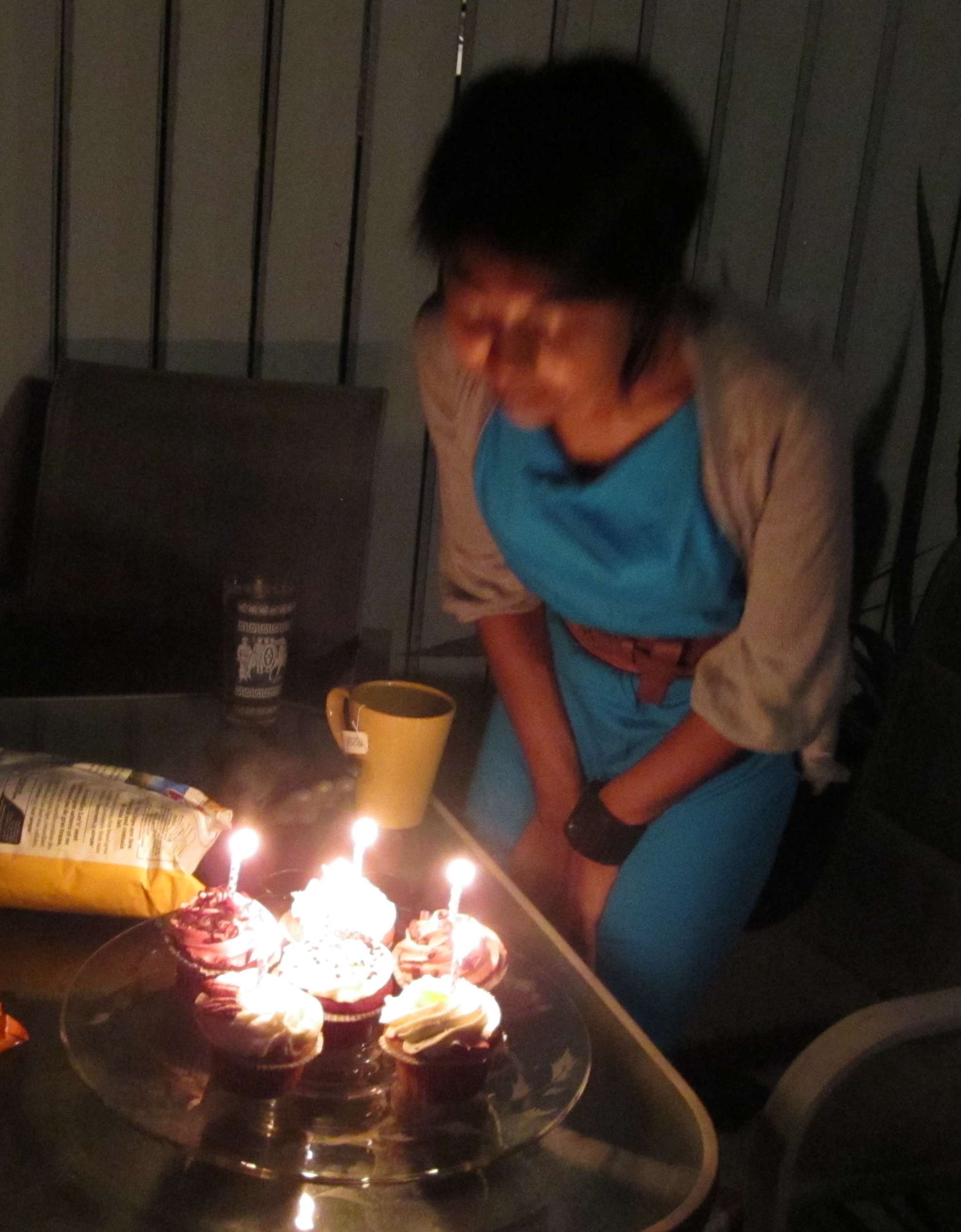 I was really looking forward to my birthday. I love having birthdays, I've even been known to have a birthday month! This year was a little different. Usually I overindulge on my birthday. Go out to a fancy restaurant and have tons of desert and some wine! This year I wanted it to be different. I have always been known to be a 'healthy' eater. I eat vegetables all the time but lately I have been really inspired to up my veggie intake and to dabble in the raw food and vegan world.
So the day before my birthday my fiancee and I had a plan…to make dinner for everyone. The menu consisted of quinoa, veggie skewers, asparagus, sweet potatoes and a raw salad, veggies and hummus. WOW what a feast. It was amazing to make all this food, a little tiring after a 2 hour drive from the city to get there but worth it.
I was really surprised that everyone enjoyed the veggies (there were burgers and white-floured buns too, so I was a bit hesitant the veggies would be a hit). My future mother in law even tried quinoa for the first time and loved it (except for the bloating afterwards, still wondering why that happened!). For desert there were some 'surprise' cupcakes. I had a taste of a few of the flavors, a bit surprising to me, as I I had been craving cake that day! Btw I never crave cake!
Day 2 of celebrating and my actual birthday I ate leftovers from the bbq for lunch and a green smoothie for breakfast with my fiancee and his mum (YAY!). When we got home from visiting I was craving a juice (now that's more like me!) and made an amazing green juice with a little pear and beet for sweetness.
My dinner was at a vegan friendly restaurant, not my favorite but they allowed me to make reservations. Some of my friends were hesitant about the food but did enjoy what they ordered (to their surprise, I always wonder why though!). I had some cold tapas: chickpea salad, jicama (first time trying, it was yummy) and mango salad, and hummus followed by tempeh and steamed veggies. I originally asked for the veggies raw but our waiter gave me the weirdest look and insisted they be steamed. Fine. I also had a glass (more like 1/2 a glass) of wine and got pretty tipsy off of it. I rarely drink, maybe one every few months.
I ate too much for sure. I guess that happens on bdays. After the restaurant a few of my friends came back to have chocolate cake (vegan and gluten free), tea and drinks at my place. I had 2 giant pieces, again I'm not sure what came over me! So the cake ended my glutinous (sans gluten) meal. I was overstuffed and quite uncomfortable which got me thinking….
Next year I want to not overindulge! I loved the cake and all the food but ended up eating way too late and feeling way too bloated for the next few days! I basically slapped myself from the inside. Lesson learned…chocolate cake is YUMMY but in small doses. I guess even on special occasions it is wise to eat slowly, enough and early!
But all in all I am back to 'normal' by eating how I did before, and let me tell you it sure feels a lot better! Another year another year wiser, I hope! I can't wait for my birthday next year when I'll be able to not over indulge as much (hey, it is a celebration after all, right?)
Have a good Wednesday 🙂