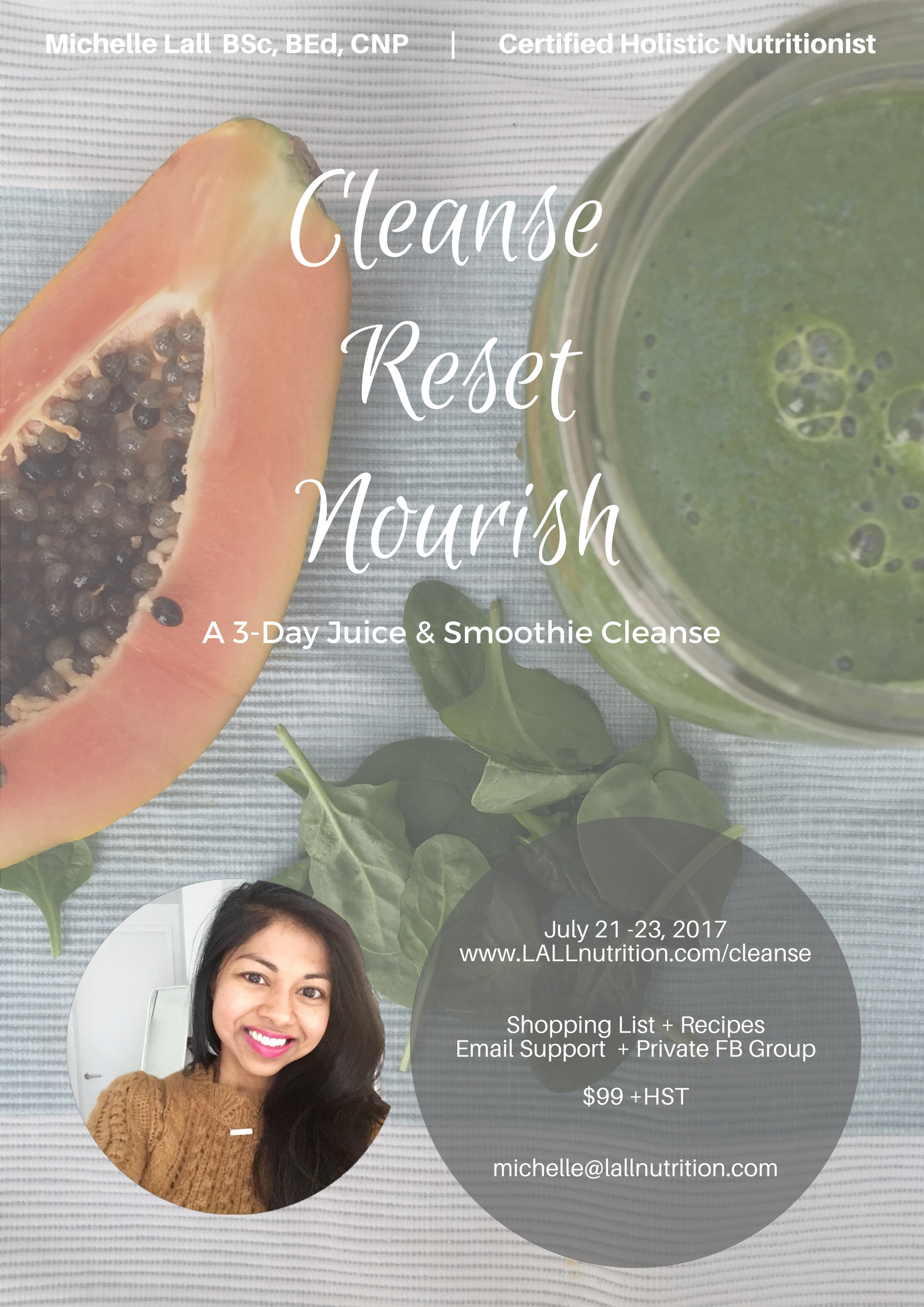 Cleanse, Reset, Nourish
A 3 Day Juice & Smoothie Cleanse
---
When: Friday July 21 – Sunday July 23, 2017
Where: Online!
Cost: $99 + HST
Includes:
3 Days of Strategic Cleansing Recipes (Juices, Smoothies, Boosters)
Shopping List
Email Support
Private Facebook Group
Community Support
Holistic Nutritionist Guided
Equipment Needed
---
Juicer
Blender
More Details About the Cleanse
3. Benefits
5. Date
6. Recipes
7. Equipment
8. Support
//My Philosophy//
Cleansing is not about deprivation but rather a self care practice. Our bodies are constantly working to digest food and keep us functioning. If we don't give it a break we can overtax our system.
Cleansing is an amazing way to reset your digestion, health and beauty! The better our digestion, the less energy the body will spend on digesting food and can put that energy into rebuilding our health.
With a surplus of energy we can start to create beauty from the inside out which results in better functioning of our system, more energy, healthy skin and shiny hair!
Facilitated by Michelle Lall BSc, BEd, CNP Certified Holistic Nutritionist at LALL Nutrition
Included
3 Days of Recipes
Shopping List
Email Support
Private Facebook Group
Community Support
Nutritionist Guided
Benefits
1. Guidance – this is invaluable if you are new to cleanses. Cleanses can make you feel a variety of symptoms and if you are concerned it is always good to have support to guide you.
2. This program allows you to have the take-away tools for life to do the cleanse again. You make the recipes yourself, infuse it with your energy thereby showing yourself LOVE & CARE.
What the Cleanse is About
As the name suggests this cleanse is about
cleansing the digestive tract
resetting digestion and
nourishing your body
My goal is to give your digestive organs, body and mind a break so that it can regenerate and heal itself. You will leave the cleanse feeling 'lighter' in your body, more clear headed and more energetic. Cleanses are a way to get back on track and to move forward with more healthy positive nutrition and lifestyle changes. This is not a crash diet or a way to lose weight although you may find yourself doing so.
You can watch my video here for more details about the cleanse here: https://lallnutrition.com/to-cleanse-or-not-to-cleanse/
Date
The live dates for the cleanse are Friday July 21 – Sunday July 23, 2017.
You will be sent all recipes 2 days before the cleanse starts to ensure you have enough time to buy the ingredients and supplies if needed!
If you would like to do the program after the start date it will be available as a Self-Study course. Release date to be announced
Recipes
All recipes are raw, vegan, gluten-free, organic so that your body obtains to most bio-available nutrition.
Equipment Needed
A high-speed blender is necessary as there are a lot of smoothies to make!
2. A juicer is also recommended to make the juices. If you don't have a juicer you can blend then strain the juices. You can also invest in a cheaper juicer (under $100).
Support
I find this to be the most valuable part of the cleanse. In the past when I have done cleanses alone, I feel isolated and my motivation can wane. Having a cleanse buddy (or multiple ones in this case) will set you up to feel even more supported, motivated and connected. You will also be able to learn from each other's experiences! This is exciting 🙂
During the 'live' version of the cleanse you will have the following:
Email support with Michelle.
This allows you to have professional guidance by asking questions that come up and to make sure you are feeling your best throughout the cleanse. Through email your questions are private. If questions come up that are relevant to everyone on the cleanse I will post the questions annonymously so WE all benefit!
2. Private Facebook Group with other participants.
This allows you to have even more support and be able to see any publicly asked questions by other members. Michelle will be answering all questions in the group as well as posting facebook live videos and additional inspirational content to keep you motivated!
3. Recipes + Shopping List PDF + Additional Information.
This will be sent to you 2 days before the cleanse start date. This document contains all your recipes and shopping list, as well as other information regarding the cleanse including tips about elimination.